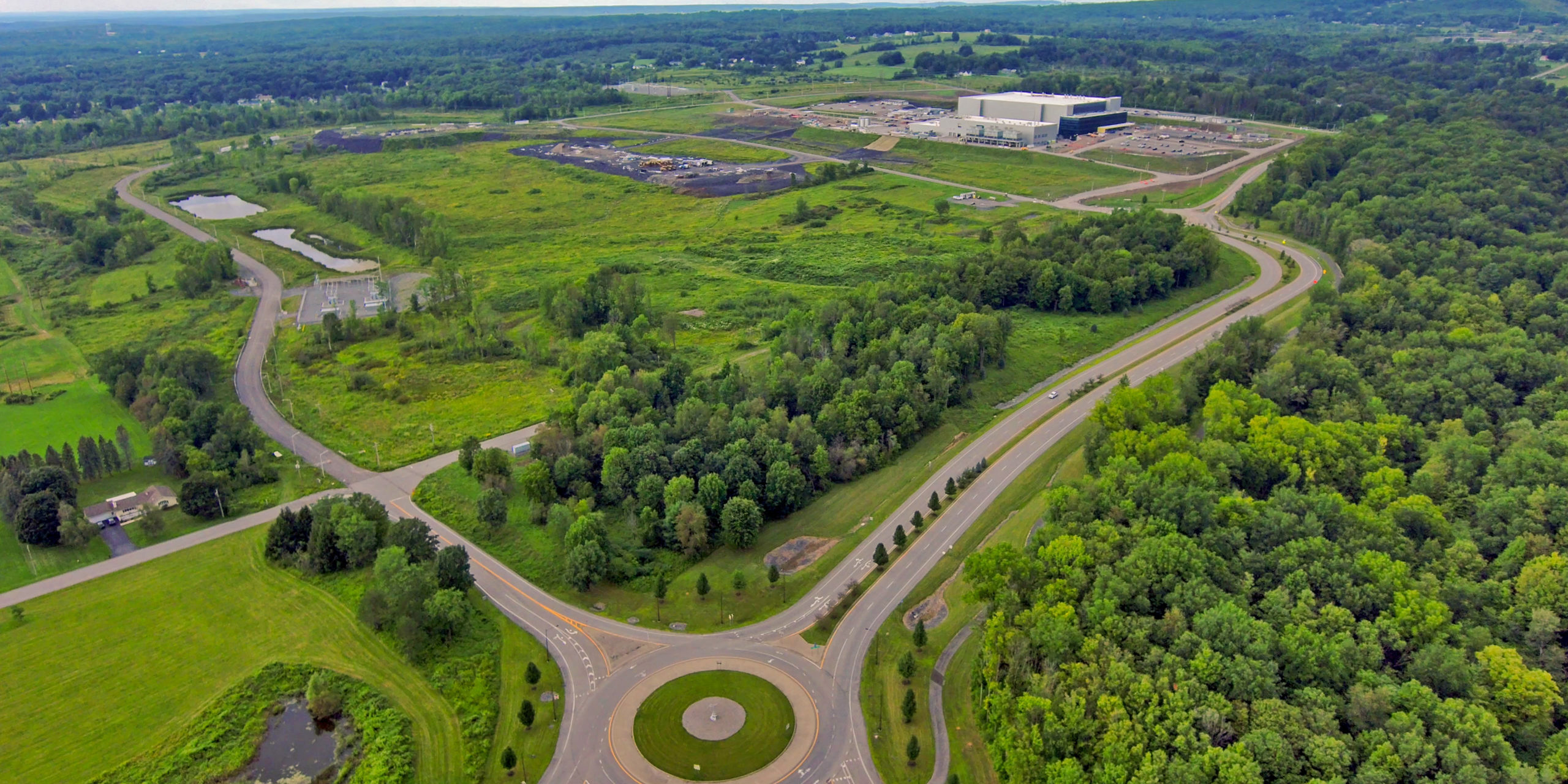 Marcy Nanocenter Parcel #2
Marcy Nanocenter is subdivided to serve multiple electronics/high-tech industry companies. Balance of site capable of supporting an additional 1 million SF of cleanroom space and additional support facilities. No other greenfield campus in the world boasts the ideal site characteristics, infrastructure, workforce, transportation assets, and lifestyle as the Marcy Nanocenter.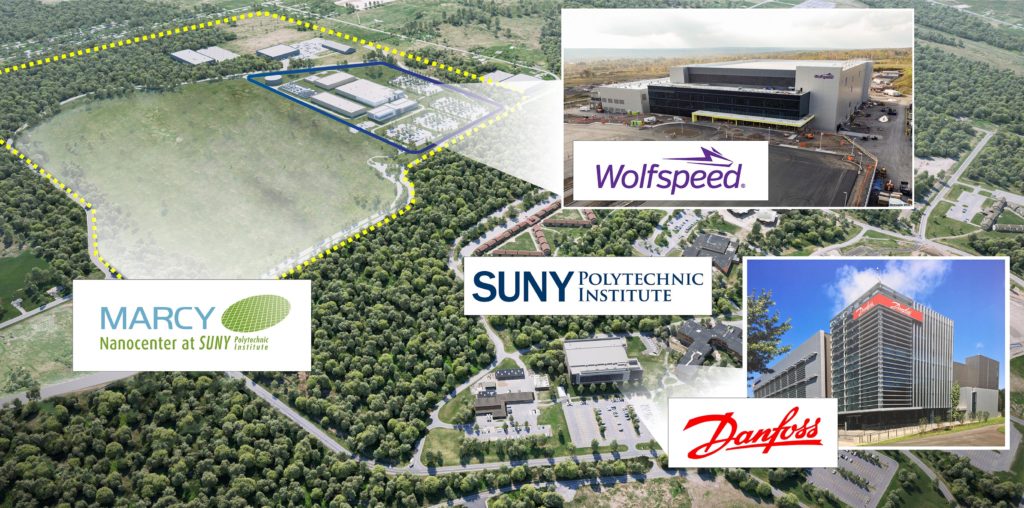 Marcy Nanocenter (MNC) is a 434-acre greenfield campus, offering completed and over built infrastructure and is considered permit-ready for the semiconductor industry
Balance of Marcy Site has over available 127-acres that can support two to four production facilities, office, and all required supporting buildings, stormwater, effective transportation areas
Located in a U.S. Foreign Trade Zone and part of the SUNY Polytechnic Utica campus in Marcy, New York
12" natural gas main extension (3.5 miles, at 80 psi); upgrades available to reach 210 psi.
Marcy Nanocenter Electrical Substation
MV EDGE owns and operates the 115 kV/34.5 kV Substation that is dedicated for Marcy Nanocenter end users Substation is expandable to double future output capacity. Underground duct bank is in place from Substation to utility vaults proximal to development site.
Dual Circuit 115 kV Transmission Line
1.4-mile dual circuit 115 kV Transmission Line completed and will service entire Marcy site with 400MW of redundant power service from National Grid.
Redundant Water Connections
Two separate 24" water mains with 48.5 million gallons/day capacity, serve Marcy site connected via 4 MVWA transmission mains – providing N+1 redundancy.
18" sanitary sewer extended from 24" town sanitary sewer that loops along the perimeter of the site and connects to new 42" County Sewer Interceptor that extends to County's Sewage Treatment Plant in Utica.
Under Ground Telecom Duct Bank
Underground fiber duct bank with four, 4" diameter conduits that allow telecom/internet service from two directions and through multiple service providers.
Empire State Development & State Priorities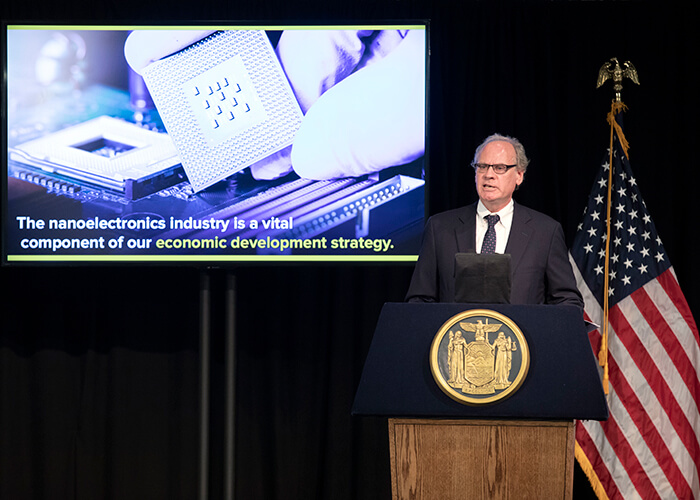 ESD is spearheading Governor Cuomo's Upstate New York High Technology Investment Strategy, including semiconductor and advanced electronics initiatives at SUNY Polytechnic Institute & the Marcy Nanocenter
MV EDGE oversees large regional transformational projects such as redevelopment of the former Griffiss Air Force Base (now Griffiss Business and Technology Park) and is the designated lead developer for Marcy Nanocenter Project (MNC) and responsible for securing Cree as a tenant on the site
New York State has proved to be flexible and creative when proposing incentive packages, including capital grants to reduce capital costs for the design, construction, furnishing and tooling for the semiconductor industry and other high technology investments
Regional Workforce & Expanding Talent Pipeline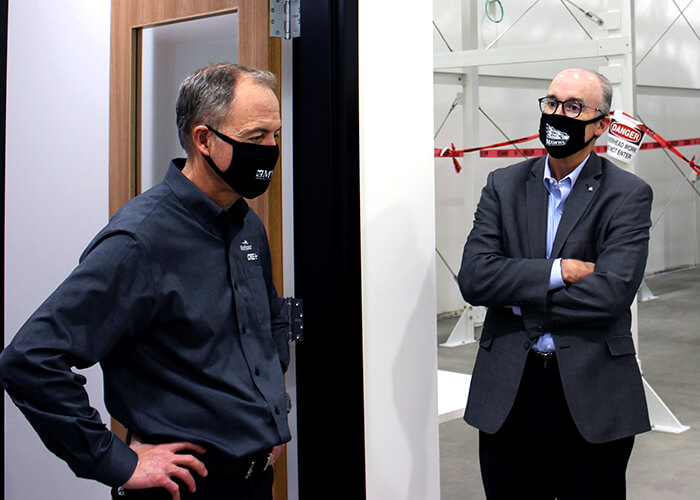 "The Marcy site offered the company the 'trifecta' of advantages" Lowe said… We need to have a strong set of universities and community colleges in the area from which to draw our workforce," Gregg Lowe, Cree | Wolfspeed CEO said. "Having incentives and a Greenfield opportunity without having the access to a talented workforce is a nonstarter."
Ability to leverage the SUNY system's 64 institutions, including research universities, academic medical centers, liberal arts colleges, community colleges, colleges of technology, and an online learning network
P-TECH model mirrors STEM-focused work-based learning programs implemented in Brooklyn with the goal to scale program statewide
SUNY Poly has a partnership with Fort Drum Transition Assistance Program (TAP) for soon-to-be-separated Veterans NEATEC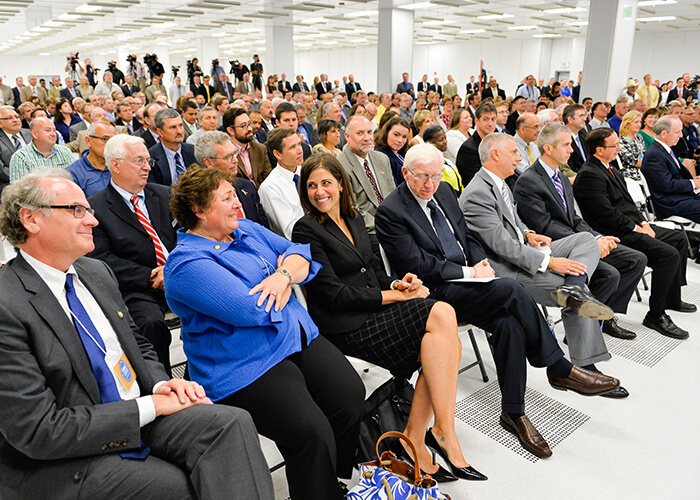 The Marcy Nanocenter enjoys broad support from the local community, Town of Marcy, and Oneida County
Marcy Nanocenter has a preapproved 49-year Payment-in-lieu of Tax Agreement (PILOT). This PILOT Increment Financing component establishes prescribed and precalculated payments to taxing jurisdictions and key stakeholders (Town of Marcy, County, Schools & Special Districts). The balance of payments can fund vital company needs, for example, recruitment, relocation, job training, and qualified site development